Welcome to Dr. Yonnie Chyung's WORC (Workplace-Oriented Research Central) lab!
Dr. Chyung is a Professor in the Organizational Performance and Workplace Learning department of the College of Engineering at Boise State University.
She focuses on workplace-oriented research and development work that is readily applicable to practitioners.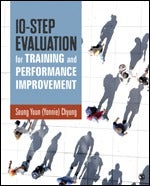 Her recent major scholarly activity has resulted in a book, 10-Step Evaluation for Training and Performance Improvement, published by Sage.
Dr. Chyung runs a virtual lab. She actively invites OPWL students and graduates as WORC researchers. They are from various parts of the US and other countries. Here is how it works:
She forms virtual teams of WORC researchers to
perform research, learning, and development activities together.
Team members set up a common project goal to pursue.
Team members meet via Zoom or Hangouts (as well as via email) to discuss their research progress.
Team members write manuscripts together, and publish them in journals or present them at conferences.
Depending on the scope of each project, team members may produce their publication or presentation within a semester or two, or it may take a couple of years to do so.
Please look around and see the current and previous WORC researchers' work.
If you are interested in joining Chyung's WORC research team, please review this page and contact her via email at ychyung@boisestate.edu.