Why Study Philosophy?
We are a compact, vibrant department with engaged and inquisitive majors and minors. If you asked one of them why he or she has chosen to pursue a degree in philosophy, you'll likely hear, "Because I love it and I must." Our faculty share this passion for inquiry into the most fundamental questions concerning the nature of reality and the place of human beings within it.
Our smaller size fosters a strong sense of community, and students enjoy extensive interaction with faculty members. Philosophy is proving more and more to be an area of study that employers like to see in their applicants, and who have greater earning potential than one might think. Philosophy is a great double major for Psychology, Physics, Math, and of course, for those wishing to go into both medical and legal professions.
NPR –  How to think like a philosopher
Harvard Med School Prof makes the case for philosophy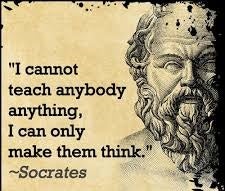 Our Philosophy:
Every student needs to have good critical reasoning skills and a sense of intellectual history irrespective of major in order to contribute to shared well-being and prosperity.
Our Vision:
To be recognized as one of the West's most potent baccalaureate programs in philosophy.
Our Mission:
To inspire every student to think critically and communicate effectively; to produce graduates with the highest degree of competence; and to make substantial contributions in research.
---