The Idaho Policy Institute was featured in an article at the Idaho Press on its continued growth at Boise State University.
Two years after launching we have completed over three dozen projects encompassing every geographic region of the state, and has grown its staff from three to eight full-time employees and two graduate students.
"The staff at IPI are focused on being responsive to the individual needs of each client we serve," said Director Greg Hill. "We have the research expertise to focus on small, localized issues or very large, statewide systemic issues. Our goal is to be a resource for decision makers, and to be accessible to any size of organization."
IPI opened its doors in October 2016 with the goal of becoming an objective resource for decision makers. As Hill said at the time, "We recognize that state and local governments are often strained when it comes to resource allocation devoted to research, so we created the institute to help bridge that gap."
Projects now encompass the entire state and range in cost from $1,000 to $100,000 and can take as little as six weeks or up to a year to complete.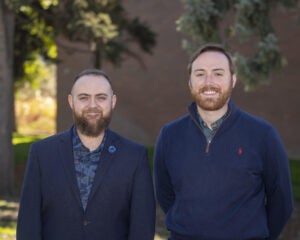 To tackle its expanding workload, IPI has increased its staff. The most recent hires include research associates Benjamin Larsen and Gabe Osterhout. Larsen is an Idaho native with an undergraduate degree from Boise State University and a doctorate from Northeastern University in Boston. His dissertation focused on local LGBTQ nondiscrimination laws across the country. Larsen's work at IPI currently involves working with the City of Boise on renewable energy sources and homelessness.
Osterhout also is an Idaho native who recently completed his master's degree at King's College London, a public research university located in the United Kingdom. Osterhout has completed internships with a broad spectrum of Idaho elected officials, ranging from the Idaho Legislature to the U.S. Senate. Osterhout currently is working with the Idaho Division of Veteran's Services to illustrate the economic impact of military retirees in the state. In addition, he is assisting the cities of both Nampa and Mountain Home with building comprehensive plans.
When not engaged with contract work, IPI research associates explore public policy issues impacting our state. For example, Osterhout is conducting research on electoral policy differences among Idaho counties. Researcher Lantz McGinnis Brown, who has been with IPI since its inception, is working with Boise State computer science students to create a user-friendly platform that will illustrate trends in the employment numbers of Idaho cities.
"It is incredibly exciting to be a part of the work at the Idaho Policy Institute and watch it grow," said Hill. "The people in the communities across Idaho are engaged in such interesting and important work, and I am appreciative of the existing and ever-expanding relationships we are building to help inform decision making in Idaho. It is an honor to be a part of it."