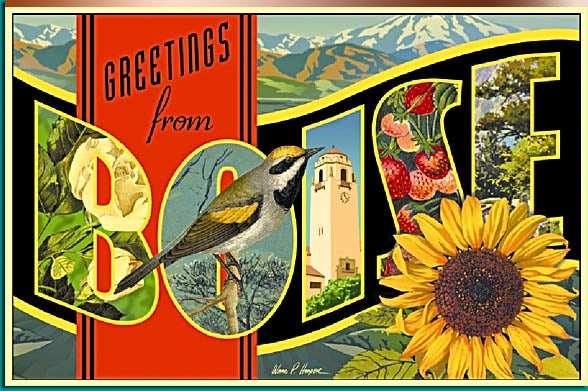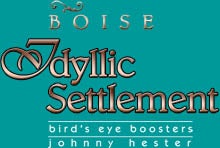 During much of the 1800s, artists created fashionable bird's-eye-view maps depicting towns throughout the country. With the use of lithography, these images could be mass-produced and circulated as needed. Although artists and lithographers used almost anything as subject matter, the settlement of the American West and inevitable founding of new towns created several new subjects for artists to draw. City boosters often commissioned artists to render flattering depictions of a given city, which a lithographer transformed into a lithograph. Boosters then used the lithographs to promote their cities in order to attract settlers, investors, and businesspersons. City lithographs hit their peak popularity between the 1880s and 1920s. It is not surprising that bird's-eye-view maps of Boise exist as artists created thousands, utilizing towns of all sizes, during the nineteenth century. While few lithographers actually saw their subject in person, the illustrations of Boise are remarkably detailed and accurate thanks in part to the work of talented artists. Only in one case did a lithographer make a blatant change to an image of Boise. Generally, modifications by lithographers were rare and most consider the representations they created to be reliable.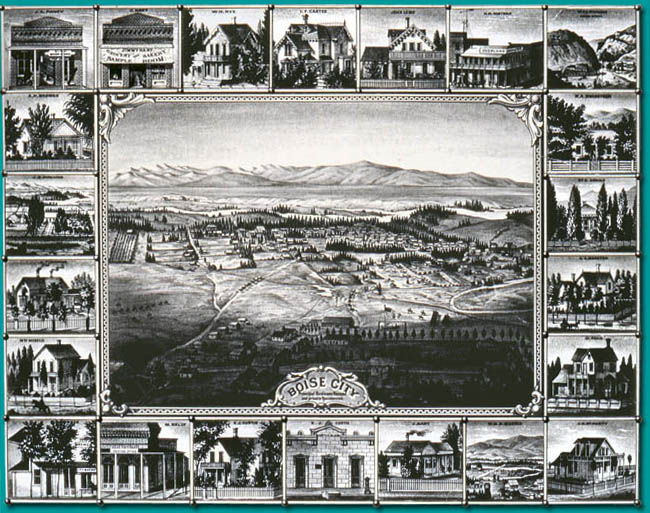 This is a view of Boise, created by Austrian born Ostner, looking south from above Fort Boise. This was the most popular map of Boise in lithographs as it depicts the river as well as the huge expanse of open land on the other side. City boosters used such pictures to show that while the urban area was well developed, there was still plenty of room for further growth. The lithographer inexplicably changed the poplar trees in this sketch to evergreens.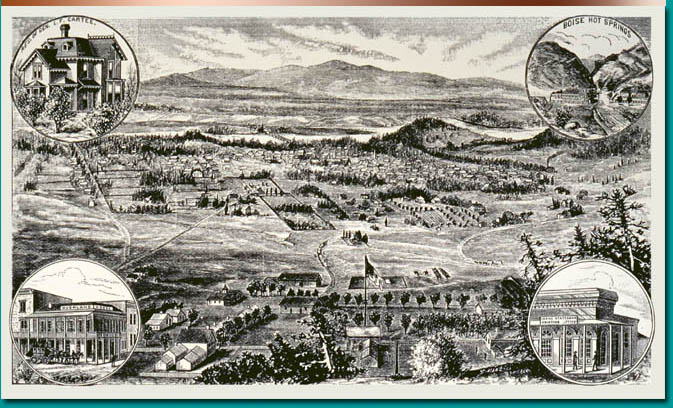 This drawing is extremely similar to Charles Ostner's 1878 drawing of the City. This view, too, is from above Fort Boise looking south toward the river.

This view is from the Ada County Courthouse looking south and depicts sixth, seventh, and eighth streets. Most prominent in this picture is the number of trees throughout the city, many of which were planted by developers such as W. E. Pierce.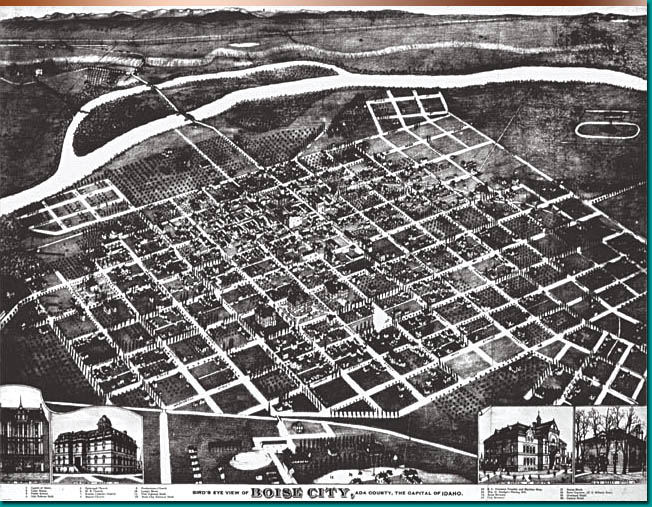 This detailed drawing by renowned German artist Augustus Koch depicts what is presumably the old bench depot in the upper left of the picture as well as the bridges once used to cross both paths of the Boise River to the south. Also shown are Thomas Davis' tree orchards on the south side of town, Arnold's Addition to the north, and the racetrack to the west. Koch's unusual style of drawing cities as if they were located on a steeply tilted plane allowed him to depict the buildings in the background almost as large as those in the foreground.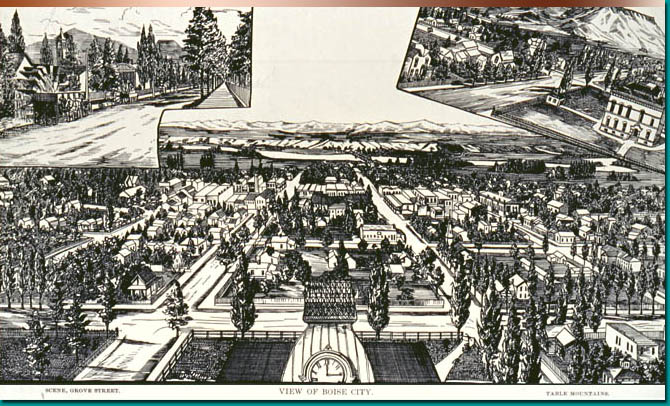 This drawing appeared in the Idaho Statesman in 1890. The building in the foreground is the Central School and the view is to the south. The waterwheel lined street in the upper left is once prominent residential district Grove Street while the upper right depicts Table Mountain, now known as Table Rock.