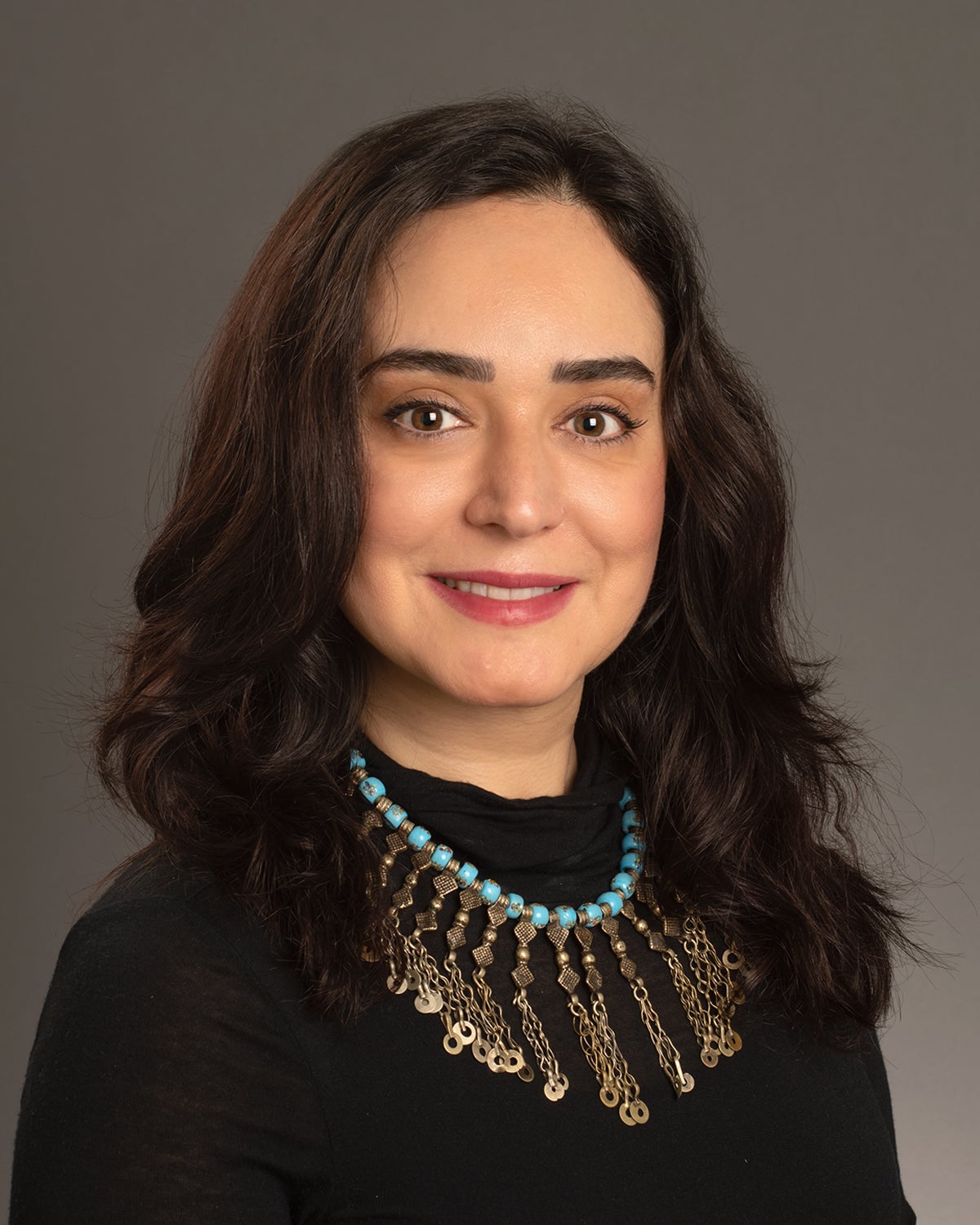 Specializations
Modern Iran
Modern Middle East
Cultural, Urban and Performance History
Gender and sexuality
Education
Ph.D., University of Toronto, Canada
M.A., York University, Canada
Teaching
Modern Middle East
Modern Iran
Gender and Sexuality in Middle East
Performance, Cinema, and Popular Culture
Urban History
Islamic Civilization
---
Ida Meftahi is an assistant professor of the Middle East specializing in history of modern Iran with an emphasis on the intersections of politics, gender, and performance (in its broader Goffmanian sense). She holds a PhD from the University of Toronto's Department of Near and Middle Eastern Civilizations and has been a postdoctoral fellow at the Institute for the Arts and Humanities at Pennsylvania State University (2013–14) as well as visiting assistant professor of contemporary Iranian culture and society at the University of Maryland. Meftahi's scholarship has been presented and published in numerous scholarly forums. Her first book, Gender and Dance in Modern Iran: Biopolitics on Stage (2016) received the Association for Iranian Studies' prestigious Latifeh Yarshater award for its original contribution to the field of Iranian women's studies. She is currently working on her second manuscript, tentatively titled "Tulip Grove, Tehran: Urban Geopolitics, Gender, and Performative Culture in Modern Iran,"  which centers on Tehran's historic Lalehzar Street and its surrounding vicinity between 1880 and 1960.
---
Contact Information
Email: idameftahi@boisestate.edu
Office Location: History Department, 181 Albertsons Library
Spring 2023 Office Hours:
Tuesday 2-4:00 pm
---
Selected Publications:
"Embrasser l'Ajnabi (l'Étranger): une histoire politique de la danse de couple à Téhéran, 1920-
1950/Intimate Embraces with Ajnabi (Strangers): A Political History of Partner Dancing in
Tehran, 1920-1950," Clio, Femmes, Genre, Histoire 46:2 (2018).
"Sacred or Dissident: Islam, Embodiment and Subjectivity on Post-Revolutionary Iranian
Theatrical Stage," in Islam, Popular Culture and Art, ed. Karin Van Nieuwkerk, Martin
Stokes, and Mark LeVine (University of Texas Press, 2016).
"The Sounds and Moves of Ibtizal in 20th Century Iran," International Journal of Middle East
Studies 48:1 (February 2016), 151–55.
"Dancing Angels and Princesses: The Invention of an Ideal Female National Dancer in Twentieth-Century Iran," in Oxford Handbook on Dance and Ethnicity, eds. Anthony Shay and Barbara Sellers-Young (Oxford University Press, 2016).
"From 'Evil-Inciting' Dance to Chaste 'Rhythmic Movements': A Genealogy of Modern Islamic Dance-Theatre in Iran," in Muslim Rap, Halal Soaps, and Revolutionary Theater: Artistic Developments in the Muslim Cultural Sphere, ed. Karin Van Nieuwkerk (University of Texas Press, 2011), 231–56.