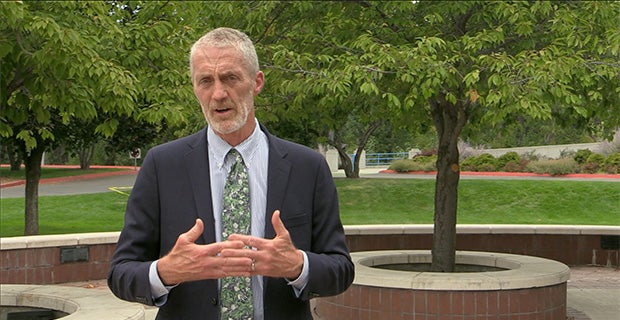 Max Davis-Johnson talks about what the Office of Information Technology has been up to over the past few months, and our areas of emphasis for the Fall 2016 semester:
Max loves feedback…feel free to contact him directly at max@boisestate.edu.
Transcript
Hi, this is Max Davis-Johnson, Boise State University, Office of Information Technology.
Today I want to highlight a few of the things that we've accomplished recently, and then I want to talk a little bit about some of the things we will emphasize going forward here at the beginning of Fall semester 2016.
So, one of the things we're going to certainly emphasize here moving forward is our move to the Cloud.
And we've started some things with our financial system and our talent acquisition system, Taleo, but there's a lot we still need to do to make those more usable, more solution-driven to what the institution needs.
So, that will be a major point of emphasis here, especially at the beginning of the Fall semester.
We're going to looking to expand our analytic capability, and whether that's financial information, more student-oriented information, that also will be a point of emphasis for us moving forward.
One of the new things we've done this year is we've opened up a new Zone here in Keiser Hall, in the residence hall center.
The idea is that we're right in the middle of activity with students.
We have 2,000 customers in the area here, and this way we can support them directly.
myBoiseState is another area where we've made some significant enhancements.
We've rolled out a new iteration with a lot better plumbing behind it.
So we now have the ability to start adding things, adding services, adding individualized content based on on who you are, and as we move forward the University will be adapting a lot of this functionality.
We've been able to combine services with several of the colleges.
We are now providing support — all the technical support — for the College of Business, the College of Health Sciences, School of Public Service.
We have now expanded our support of classrooms to include departmental-owned classrooms.
This will give us the ability to get a consistent level of technology into more classrooms.
It will give us the ability to be more pro-active in our support of classrooms, and at the end of the day it will give faculty a common experience across all our classrooms.
And more importantly it will give students a common technology that can be leveraged in all our classrooms going forward.
Customer service will be another area of emphasis for us.
We always emphasize customer service.
It's part of our culture.
We work to provide online tools, whether that's changing your password, online content.
But at the same time we can't forget the human element of customer service, so we want to be as responsive as we can to you, we want to listen to you, and more importantly as we understand your needs we want to work directly with you to craft solutions to meet your needs.
So, one of the other things that we're putting in place right now is the new REEF Polling system.
Basically, this is a polling system designed for classroom use, and this will be available in every classroom.
What's really neat about this is, instead of buying — having to go to the Bookstore to buy an individual clicking device or polling device, there's actually software that you can load on your smartphone that would allow you to be part of this without buying a hardware device.
So I think it will give us a lot more flexibility as an institution and a lot more ability within a classroom to have people partake in the polling system.
One of the other things we've done too, we're evolving to a software-based classroom or lecture capture system.
Before we were hardware-based, which somewhat limited our ability to get it in as many classrooms as possible.
Since we are now evolving to a software-based system, we now have that capability or can have that capability in the majority of our 130 classrooms that are centrally supported.
Accessibility is extremely important to us. I'm talking about web accessibility, technology accessibility.
It's not only important to OIT, but it's important to the campus.
And, we're going to be looking at initiatives to help sustain our accessibility, to help remediate things that need remediated.
And again, not only making customer service part of our culture, but web accessibility a very important part of our culture.
That's not just in OIT, but all across the University.
There's a lot going on across the University, in OIT, we're always looking for feedback, we're always looking for help with, "Are we working on the right things?"
Do you have some new ideas that can make a difference from how we leverage or use technology?
We want to hear from you.
Thank you for listening, and until next time…