Dr. Andrew Cortens, Ph.D.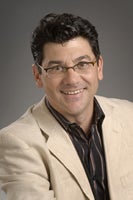 Professor
Email: acorten@boisestate.edu
Office: Education Building Room 614
Phone: (208) 426-1726
Areas of Interest:
Metaphysics, Epistemology, Philosophy of Language, Philosophy of Religion
Courses Taught:
Thinking Well:  Introduction to Logic (PHIL 209), Philosophical Writing and Method (PHIL 210), Philosophy of Religion (PHIL 231), Symbolic Logic (PHIL 304), Metaphysics (PHIL 333) UF100 God and the Good Life.
Biography:
Andrew Cortens received his M.A. in Philosophy from the University of Manitoba (1989) and his Ph. D. in Philosophy from Syracuse University (1995). He is the author of Global Anti-Realism: A Metaphilosophical Inquiry, (Westview Press, 2000) and has authored and coauthored articles on metaphysics, epistemology and philosophy of religion that have appeared in such journals as Philosophical Studies, Dialectica, and Faith and Philosophy. He lives in Boise with his wife, Caroline, and his hobbies include playing the piano with the Frim Fram Four, a jazz combo that performs regularly in the Boise area.