Even as billions of people across the globe are ordered to isolate themselves for the collective good, there is critical volunteer work helping vulnerable populations that can't simply pause in the midst of a pandemic.
Five Boise State students have bravely stepped forward – virtually speaking – to continue providing translation services four days a week for Spanish-speaking patients at a free community health center.
Since January, undergraduate students Nate Weber, Dylan McCallum, Milena Quiros, Alondra Murillo and Rikki Fix have been volunteering in three-hour shifts at Genesis Community Health.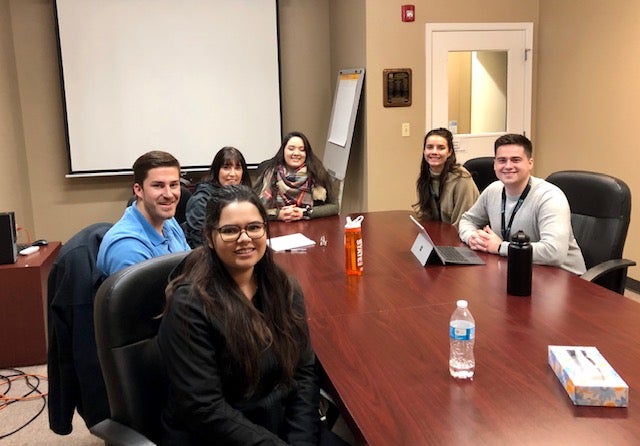 "At Genesis, we provide free medical, dental and mental healthcare to members of our community that are uninsured and facing economic hardship," explained Genesis director of operations Josh Campbell. "For those who are Spanish speaking, we could not provide this care without help from Boise State Spanish program students. They are a key link to ensuring Genesis provides services that are both linguistically and culturally appropriate to our Treasure Valley neighbors in need."
A Health Care Cost Institute study put the average cost of one emergency room visit at $1,389 in 2017; Campbell says it is now around $1,500. Genesis can provide multiple visits to patients for around $500 a year but "that is our cost, patients don't pay anything," Campbell stressed. "That is whole patient care for a year for one-third of the cost of one ER visit, where many of our patients would go if clinics like ours did not exist. We are able to do this largely because of volunteer programs like the Boise State interpreters."
The volunteer program began in fall 2019 with just two students, said Fatima Cornwall, the Spanish language coordinator for World Languages. Cornwall offers a medical interpreting class each year (as well as a legal interpreting class), which students are required to take if they'd like to volunteer at Genesis. (Cornwall also checks all of the students' written translations for accuracy.)
The interpretation classes have proved so popular that a minor in interpretation will be offered beginning fall 2020.
"We were trying to find ways for students to have hands on, community-based experience," Cornwall said. "This clinic wanted to serve more Spanish speakers. It's worked out so well that next fall, we will be offering minor in interpretation because of all the work the students put into this."
Weber, a senior from Bonney Lake, Washington, will be graduating this May with a bachelor's degree in health science and a minor in Spanish. He has been with the volunteer program since its inception – in fact, he now works as its student coordinator. Weber was drawn to the program because he has aspirations to become a physician, like his grandfather. He also works as a scribe in the emergency room at St. Alphonsus Regional Medical Center, where he's seen firsthand the great need there is for accessible services like translation support for patients. For this reason, the satisfaction he takes in volunteering is hard to match.
"When the patients are being brought back to the room, they just have this look of discomfort on their faces and as soon as you go in there and say 'hola, soy el intérprete,' they kind of light up," he explained. "You can really tell that they feel more comfortable. For me, it's that aspect that's so worthwhile, that we can serve a greater population that has this great need."
Each week, Weber meets with Genesis's director of operations, then ensures all patients are called (the team has their own Spanish voicemail box they're in charge of) and appointments are scheduled correctly, checking in to make sure translating and interpreting services are doing well.
"Beyond that, our most important role is going to the rooms if there's a Spanish-speaking patient for the entirety of their visit," Weber said. "We'll interpret for nurses, come out, speak with the provider, then go back in with the provider. Then they have community health workers who come in at the end who are there to ask the more difficult social questions – like 'how comfortable are you with housing, food, safety?' We provide those translations as well."
Fellow volunteer Alondra Murillo is an American Falls, Idaho, native who will be graduating in May with a bachelor's degree in human biology and a minor in Spanish. Like Weber, she has aspirations to go to medical school.
"I remember the moment I wanted to become a doctor. I had the same family doctor as a little girl, he spoke Spanish and was very sweet with my mom and me. One day he handed me the stethoscope and said in Spanish, 'do you want to listen to your heart?' And that was it," she said.
Murillo also works as an emergency room scribe at St. Alphonsus. She said that, along with being raised in a bilingual household, gave her a greater awareness of the vulnerability of patients who can't easily communicate with their doctors.
"Patients get nervous, they don't know what to say or how to describe their pain. I want them to feel comfortable to know that someone is on their side even though they don't speak English. I want to provide accountability because I know how easy it is for words to be misinterpreted and misunderstood in both languages," she said.
For everyone, life has changed seemingly overnight with the continued spread of COVID-19. While Boise State closed its campus to slow the virus, and city and state officials have advised all residents to stay at home, the needs of sick Genesis patients doesn't simply dissipate.
Which is why this week, the students pivoted: instead of offering services in person, they took their services online. The team is now using a free, Health Insurance Portability and Accountability Act (HIPAA) compliant virtual meeting program that allows them to call in remotely to the clinic.
"I rented out an iPad from the Zone at Boise State. That stays at the clinic and basically we can work from home and they call us when we have patients," Weber explained. "So we're still able to serve them and they're still able to see us – that's really the important part. We could call in, but when someone says 'my foot hurts here' and you can't see that, it's hard to interpret for the doctor."
They also have a HIPAA-complaint calling service and HIPAA-compliant electronic medical systems at their disposal to make and change appointments from wherever they happen to be.
"There are a few of us who are not from Boise, who are thinking of going home and being with our families but didn't want to stop volunteering for this community that we see every day and that needs help," Weber said. "This way, we'll still be able to serve them from California or Washington."
Which is important, as the work they do is more vital than ever.
"I love being an interpreter," Murillo said. "I feel so valued at Genesis. They have some of the best providers and best nurses who come in and give quality care to patients that absolutely need it. And I get to be with patients from the start to the end. It's great to know that people are coming together to do that for a community, even with all the crazy stuff going on in the world. "