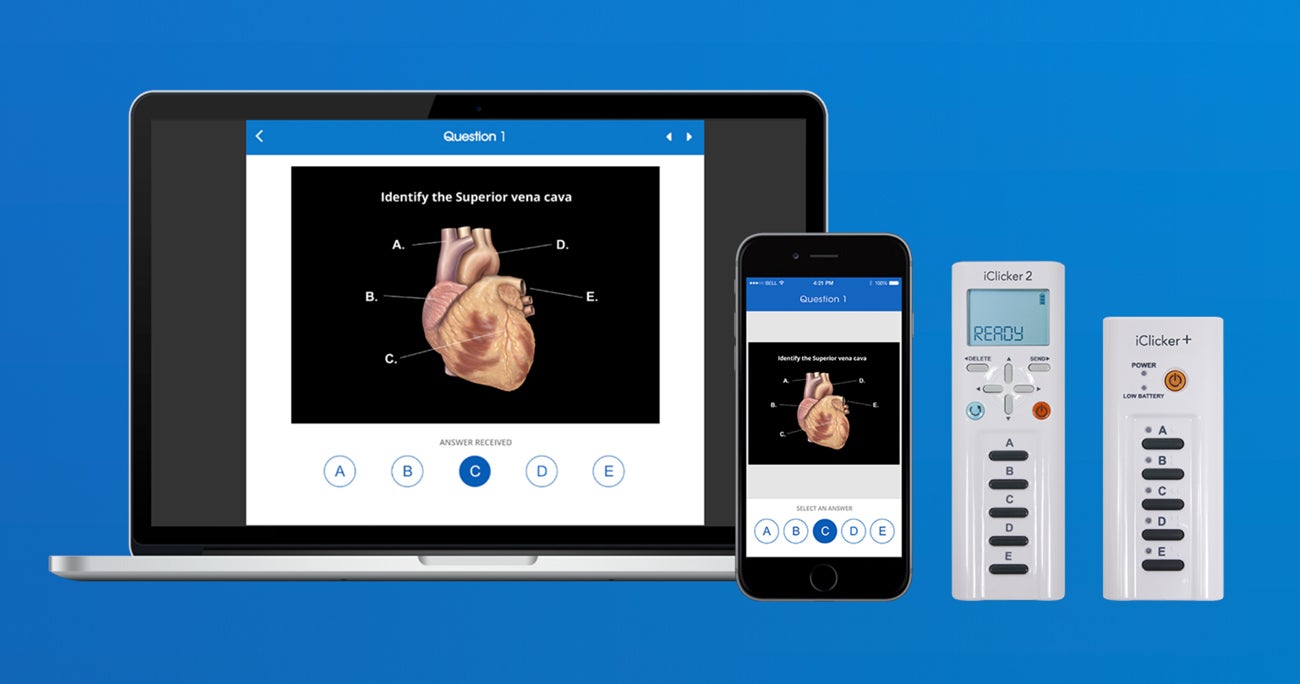 Until three years ago, there were at least four student response (clicker) systems used in classrooms across campus. Students had to purchase and learn hardware specific to each system–some of which worked well and some that did not. And, at that time, only one of these systems was officially supported by the Office of Information Technology (OIT).
In 2015, the OIT Learning Technology Solutions (LTS) team proposed a pilot project to the Technology for Learning and Teaching Group (TLTG) to discover how instructors use clicker systems and to test and identify a student response system for official adoption at Boise State.
By the end of the academic year, the pilot project indicated that Boise State should adopt the Macmillan student response product called iClicker. This is the same Macmillan that publishes textbooks and other classroom resources. iClicker was the favorite clicker system for ease of use, features, and accessibility according to faculty, students, and the OIT system integration team.
Over the past two years, instructors, working with staff from the LTS team, continue to develop innovative uses of iClicker for student engagement and assessment. We currently have about 75 instructors using iClicker in 152 classes that serve around 9,000 students.
Adoption and usage of iClicker has been steady but, according to Grace Tuttle in LTS, "Some instructors are concerned that the additional cost of the physical clicker ($49) could discourage students from taking classes that use clickers." In addition to the physical clicker, there is a mobile app that students can download and use for about $10 a semester which is a huge savings over the physical clickers. "Our goal is to have most students using the mobile app," says Grace.
What's exciting is that new research indicates that the adoption of clickers, especially in 100 and 200 level courses, may help retain students. Macmillan recently conducted a research study with James Brennan, a Boise State physics instructor, who uses the iClicker system in his classrooms.** "Macmillan, like many other software vendors, are moving into the complex and nebulous space of student success," Leif Nelson, director for LTS explains.
Just a few weeks before the Fall 2018 semester started, "Macmillan reached out to us and said, 'We really like what you're doing at Boise State. Can you be part of this exclusive pilot to look at some new products we're working on developing?' And we said, 'Sure!'"
Macmillan is exploring the idea that if there's any way to understand or improve the student experience, through attendance and other assessments, in both formal and informal learning environments, maybe their software can help with that.
They asked if we could find 200 students to participate in the pilot program and they would provide, for free, access to the iClicker mobile app. So two weeks before fall semester, Grace asked around and signed up 10 instructors and 1,000 students to participate. Macmillan provided 1,200 free app codes and we have 10 instructors and over 850 students participating in the pilot. Then Grace trained the instructors on how to use iClicker in their classrooms–two weeks before classes started!
The administrative side of this pilot consists of attendance dashboards and reporting tools that Macmillan thinks might be useful for us to understand how to best engage with students for success and retention. Macmillan primarily want to measure and report on student engagement, ease of use, and the real-time feedback and anonymous polling features. The anonymous polling feature is well loved by students.
According to Grace, "Every student should have a voice." The anonymous polling feature provides a mechanism for students to share thoughts and opinions in large classrooms without fear of retaliation.
In addition to members of the OIT LTS team, there are representatives from University Foundations, Advising, and Student Affairs who each have opportunities to provide feedback on the dashboards and reports.
And our usage of iClicker at Boise State will continue to evolve. We would like to see 100% of students using the mobile app over the hardware clicker. Grace is already working with the OIT Accounts team and Macmillan to see if we can add single sign on to the iClicker app.
"If this goes really big, maybe we could look at enterprise licensing and build [iClicker] into myBoiseState," says Leif. "If we can tap into what events students are participating in, are they going to class, add exit polling features, this would help gives us better insights into the student experience on campus in a more holistic way."